It's time to register for TPC's most highly anticipated event of the year!
Please join us on Friday, April 28th from 6 PM – 10 PM for a fun evening of gambling, passed hors d'oeuvres, beer, wine, soda, dessert and prizes !
Admission
Family/Student of The Phoenix Center: $50
General: $75
Big Spender: $100 (Includes General Admission + 26 extra prize tickets)
At the Door: $125
ALL DONATIONS ARE APPRECIATED.
Must be 21 years of age to attend.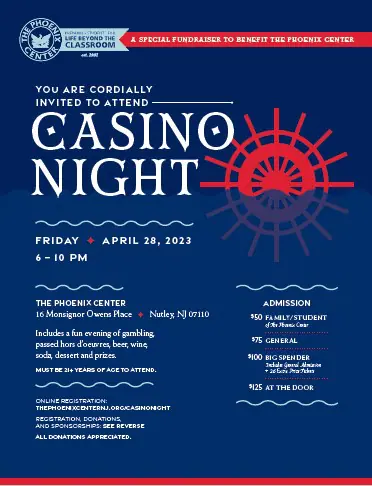 ---
Now Accepting Sponsorships
Are you interested in participating in our event as a sponsor?
Please click here for full details. If you have any questions or would like to talk about a customized sponsorship package, please contact Carolyn Sharaway at csharaway@thephoenixcenternj.org or 973-542-0743, ext. 403.
ID #: 356-5-34980 | Casino Night License #: I-23 | 50/50 License #: 2-23