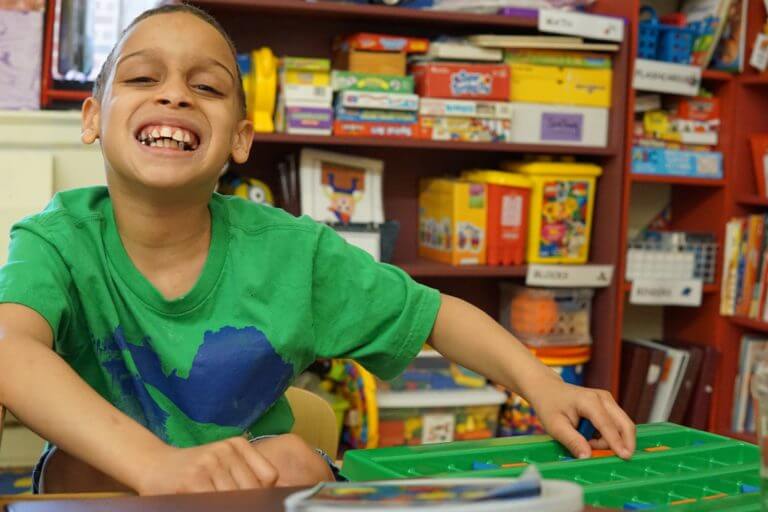 We understand the needs and challenges of the referring district case manager, administrator and child study team. The success of our students is typically correlated to the level of support and collaboration we foster between our school, the student's parent(s) and their home district.
We have a customized and integrative approach to IEP development and our evidence-based curriculum has been lauded by not only educators from our referring districts, but also other special needs schools that have asked us to share our best practices.
The Phoenix Center's differentiators include:
Nationally accredited
Approved by the New Jersey Department of Education
Not-for-profit
Serving a diverse student body ages 5 to 21 with autism as well as multiple disabilities
Providing for our students' educational, behavioral and therapeutic needs under one roof, with multi-disciplinary methods
Uses an integrated approach to learning
Quality and training of staff and related service providers
Founded on evidence-based programs that are tailored to each student's needs and abilities
A pioneer in developing and implementing a real-life community-based instruction model with the goal of preparing students for life after Phoenix
Productive collaboration with districts, professionals and parents on customized programs
Has a policy of not granting parental visits without the consent of the student's home district
We believe in working together for the good of the student. We encourage you to look at our unique points of difference and help determine if the student you are working with is the "right fit" for our school. In all cases, we suggest a call and an in-person visit. As a testament to our collaborative philosophy, The Phoenix Center does not permit parents to visit without the prior consent of the sending district. Please contact our intake coordinator Tanya Taibl at ttaibl@thephoenixcenternj.org for more information.
Inclusion: Returning to Home District
The Phoenix Center works closely with sending districts and parents to return students to their neighborhood schools when they are ready. The Phoenix Center's team of curriculum specialists, counselors, and in-house case managers are available to work collaboratively with sending districts to create a positive culture for inclusive transitions. This includes:
Meeting with parents, the District Case Manager, and the student, to determine readiness to return to home district
Visiting the proposed district setting
Speaking with the classroom staff to orient them to the returning student's needs
Providing advice on organizational structures that might facilitate the transition
Consulting regarding curriculum, instructional delivery, and program evaluation
Accompanying the student to the district setting for an agreed-upon period of time, as needed